The last update of this non.no series (at least it is the last until the next issue comes out)

Jun and Aiba chan graced us with the manly (and lovely, I must say) photos, plus a hilarious talk of their idiotic manly sides, and an in-depth discussion on the masculine qualities of the other members.

Aiba Masaki

X

Matsumoto Jun



Vol.46 - 「The Manly Arashi」


Quietly drawing near the two who are having fun in this bar, we managed to catch a nice "men's talk"!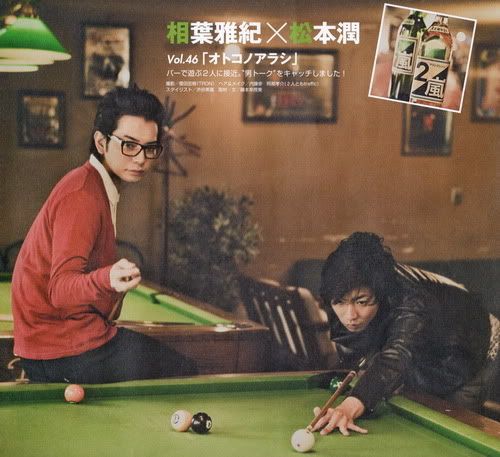 The request this time from Ohno kun was 「As Arashi's representatives, go and show people our manly side through your talk and photos (laugh)!」. With that said, Aiba kun X Matsumoto kun headed straight for the bar. In no time they got into a serious mood and went to challenge each other with billiards and darts. After that they retreated to the counter for a glass or two. It was there that we got to record this super real men's talk ♥
When the guys get together, it's a given that we would start to play all kinds of foolish games (laugh)

Jun: It's been a while since I last went to a bar.
Aiba: Same here! Lately, when I think of "hanging out", the image of "a meal" always seems to suggest itself. Ramen and yakiniku places are my too familiar haunts, so playing games like today felt really refreshing. MatsuJun, you know the rules of darts quite well, don't you?
Jun: (with the air of an expert) Well, because I used to be a delinquent…… if you would believe that (laugh). When I was in high school, bowling and billiards were all the rage, so I reckon that the time of darts was soon to follow.
Aiba: That sounds right. Have you heard of the recently trendy golf bars? I've been there quite a few times already ♪
Jun: I bet those places would give you a nice change of mood. Aiba chan, do you have any unforgettable experience about "men's gatherings"?
Aiba: There are memories of the trips, I guess. I've gone with my friends to Guam, and Phuket, and Okinawa…… somehow our journeys always ended up heading south. On a trip a few years ago, we arrived at the destination in the dead of night. And just when we finally found a convenient store, suddenly a "who can eat the most hotdogs contest" broke out (laugh).
Jun: Ahaha! You guys were near starved or what?
Aiba: Not at all. It's just that the hotdogs they sold at that foreign place looked way too yummy (laugh). Anyway we were a bunch of sore losers, so the eating soon became quite desperate. Well, I gave up after the third one though.
Jun: Don't know why but when guys get together, those kinds of stupid games are bound to start. Lately, I'm getting addicted to those men-only, limited-to-love-song karaoke sessions (laugh).
Aiba: Now that is actually very dangerously addictive ~! (laugh)
Jun: It's like, after dinner, someone will call out 「Let's do something unusual for a change!」, and all the guys are more than willing to go with that flow. Before we know it, we are singing passionately, in a room full of over-excited guys. It's a pretty foolish scene if you care to take a look, but it is super fun ♪
Aiba: I know that feeling! Say, MatsuJun, what is your image of "manliness"?
Jun: Working hard as the breadwinner of the family, I guess.
Aiba: The image I have is, to make it short, chest hair (laugh).
(X Monster's comment: I swear he really said that, they recorded it in the magazine!)
Jun: So all you care about is the appearance? (laugh) Let's see, if we think about the manly side of Arashi, Nino's is……
Both: …… (pondering in silence)
(X Monster's comment: Aiba chan, Jun, you guys are just too cruel to Nino LOL)
Jun: Shall we start from Riidaa instead? (laugh)
Aiba: Yes, we should (laugh). Riidaa is the one with the greatest perseverance. See how he can sit as long as it takes on the ship waiting for a fish to take bait?
Jun: Shou kun has his decisiveness. He's always the one to pick the menu when we go out to eat.
Aiba: But MatsuJun, I think among us, you are the most manly…… Your hairstyle too (laugh).
Jun: Basing on appearance again!? (laugh) Aiba chan, you're a fine man too, considering how much you eat all the time ♪
(X Monster's comment: these people's definition of manliness is definitely weird)
Aiba: My mouth seems to automatically call out 「A big serving, please!」 before I'm aware of it (grin).
Jun: And we've got Nino left…… Ah, how about his unchanged love for hamburger? (laugh)
Aiba: We ought to give him a point for that devotion ♪ Say, what do we often talk about when the 5 of us hang out together? We chat about work, and swap information about cellphone applications, right?
Jun: Basically random and pointless stuffs. We enjoy ourselves greatly though. Being able to relax and be completely at ease with each other, I think that is the charm point of spending time with the guys.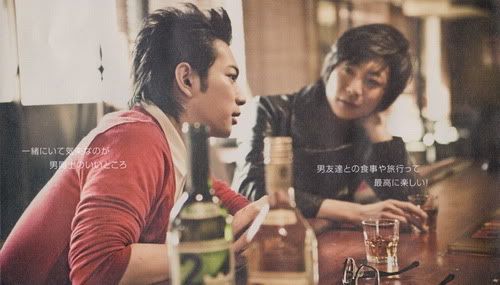 Photo:
Aiba: The good thing about hanging out with guys is that we can be completely at ease with each other
Jun: Meals and trips with the guys are always the most fun!

Image credit: masakitaisuki@sina

Next issue will be a 5/Arashi article!