A new non.no issue, this time it's Aiba chan and Nino, or... er... why does my mind have to go blank at this moment? What do you call them again? Er... Oh, Aimiya, isn't it? *sweat drop* Blame Arashi for being a group with all the possible pairings and name squishes, they're messing up my already messy brain, tsk...

Ninomiya Kazunari

X

Aiba Masaki



Vol.35 - 「Photo's Arashi」


This time, the two of them played the double role of both cameramen and models for our entertainment. We proudly present the impressive set of photos which could be produced by none other than those two. Enjoy these "precious moments" ♥

The theme this time is 「photo」. To answer Matsumoto kun's request of 「the best expressions which you guys have never shown before (grin)」, Ninomiya kun X Aiba kun set off to take each other's photos. When the shooting started, their "great cameraman X model skit" (?) immediately went into motion with 「Sensei, onegai shimasu!」 (Aiba) and 「Uh huh!」 (Ninomiya). The air was full of laughter until the end ♪ Well then, aren't you curious about how the final result of their work looks like?

(T/N: I decided to leave "sensei, onegai shimasu" untranslated because it sounds so much fun that way, and there are almost no exact English equivalent terms anyway. If you're a total beginner with zero Japanese knowledge whatsoever, remember that "sensei" roughly = "master", and "onegai shimasu" very roughly = "please take care of me")


Our work today is capable of conveying 100% of our individual charm (laugh)!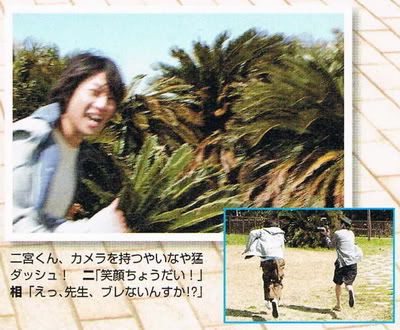 Ninomiya kun went for a dash as soon as he got hold of the camera
Nino 「Show me a smile!」
Aiba 「Eh, sensei, won't your pictures be blurred that way!?」

Aiba: Ah~, it was so much fun ♪ We have totally cleared the problem MatsuJun set.
Nino: Of course! We have taken the best photos there could ever be. They completely bring out the best of our distinctive characteristics. (with the air of a maestro) Aiba kun's charm lies in your "unconventional way". Take a look at this shoot (the main photo on the right page), such overflowing energy.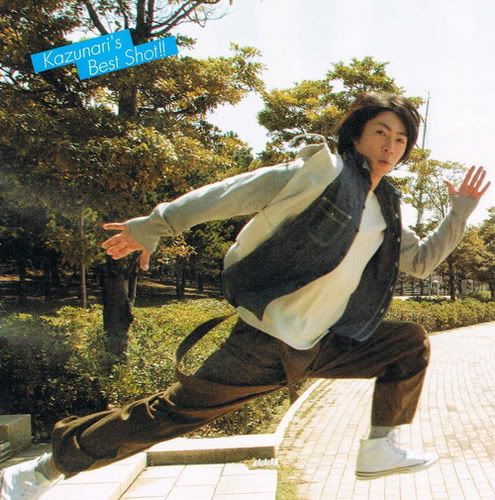 Aiba: Oh, that was when Ninomiya sensei instructed me to 「Jump into the sea!」. After this, please combine this picture with a sea background for me (laugh).
Nino: Roger that (laugh). This beautiful leaping posture showed a wonderful spirit which is ready to accept any challenge. In this photo too, I can clearly feel a great sense of professionalism in the way you boldly drank the water which was vigorously flowing out from the faucet (the photo in the middle of the right page)!


They went to the water tap next.
Nino 「Isn't this a nice place~ (grin)」
Aiba 「Do I look like an idol (laugh)?」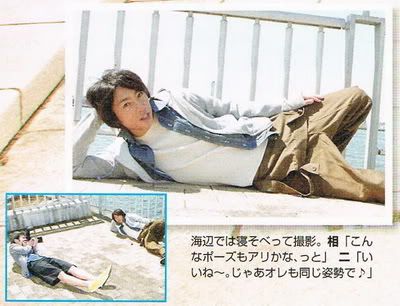 The idle photo shoot on the beach.
Aiba 「Is this pose really all right?」
Nino 「Nice~. Then, I'd lie down too ♪」

Aiba: I am indeed honored to receive your praises (laugh). Now then, next is my turn. (of course, also with the air of a maestro) Ninomiya kun's charm is this "innocent smile", I guess. When you stood on this ship's bow for example (the main photo on the left page), you seemed to fully enjoy yourself without any hesitance.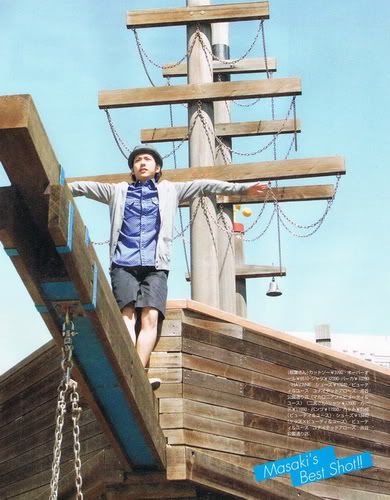 Nino: At this point, Aiba sensei told me to 「Do the 『Titanic』!」, but when I thought about it, isn't that pose supposed to be for 2 people……
Aiba: Well, to be able to portray that all on your own, Ninomiya kun was amazing (laugh). Another favorite of mine is the photo of you climbing the tree (the photo on the top of the left page). You showed such a nice expression!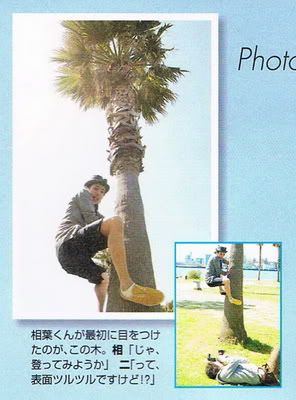 The thing that caught Aiba kun's eyes since the very beginning was this tree.
Aiba 「Why don't you try climbing it?」
Nino 「What? But it looks so slippery!?」

Nino: It was such a demanding pose. It was very helpful of you to finish taking the picture in just one second (laugh).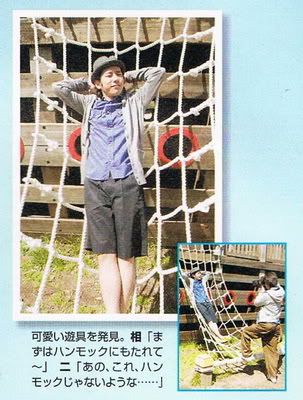 They discovered a cute playground.
Aiba 「First, try to lean against the hammock~」
Nino 「Excuse me, this thing, it's not a hammock……」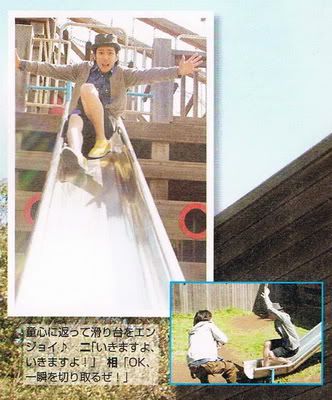 Happily enjoy the slide, just like a kid ♪
Nino 「I'm going, I'm going!」
Aiba 「OK, now, go!」

Aiba: By the way, we have taken so many pictures before, but is there any photo of the other members that you find especially memorable?
Nino: I think that Shou chan looks great when he lightly smiles and the photo turns out to have a gentle feeling.
Aiba: That kind of mood suits him, right? MatsuJun, in contrast, seems to be compatible with cool photos. As for Riidaa, it's those photos in which he wears a bow tie. Nino, I like pictures you take with some musical instrument.
Nino: The latter half of your preference all concerns clothes or accessories (laugh). I have this image of Aiba chan laughing brightly. When we go for outdoor photo shoots too, you are usually requested to show your smile, much more often than the other members are.
Aiba: I guess it's because our characters are all different. Nino, what do you usually think about in the middle of a photo shoot?
Nino: Umm, I'm close to "nothingness", I guess, since I'm not that concerned about how to present myself in the photos and simply let cameraman-san decide everything.
Aiba: There are also times when we would casually have a chat while our photos are being taken, right? Like that, our smiles come out naturally and our spirits would be raised too.
Nino: That's right. In my opinion, the epitome of photography is when "the pictures are entirely different depending on the touch of the photographer".
Aiba: I see! Another point is when the pictures "trigger viewers' imagination". Like, make them start wondering stuffs such as 「Aiba chan, exactly how much water is he going to drink!?」 (laugh).
Nino: Sure (laugh). (returning to maestro mode) In the future, I'd love to have the chance to take photos of the other members too!

Image credit:
sinomerz @
arashi_no_jidai

I've been drowning in the sea of scans I have in my Arashi picture folders to select one of Shou's "gentle" photos, one of Jun's "cool" photos, one of Riidaa's "bow tie" photos, one of Aiba chan's "bright smile" photos, and one of Nino's "musical instrument" photos to use as illustration in my post but I haven't reached any decision yet and now I have to go to sleep, it's 3:00AM already. Suggestion anyone? *yawn*